I had real fun creating Matryoshka party supplies for a Matryoshka (russian dolls) themed birthday party.
Matryoshkas, Memories of childhood
As a little girl, I was both fascinated and amused by Russian Nesting dolls. Lately, I was so happy to find the ones I was offered as a child in an old cardbox. Those Matryoshkas really come from Russia. They were brought back to me by my uncle. At the time I received them, I may have been a little disappointed by their lack of "glamour". Now I adore their traditional look. But for my Matryoshka party supplies, I wanted to had this drop of glamour.
Russian nesting dolls, pattern & inspiration
I studied closely these Matryoshkas to get inspiration for a Birthday party kit.
I first copied a simple flower pattern painted by the craftsman. But I decided to invent many different pattern inspired by traditional design from Eastern Europe. In this way, each doll would have its design, and a different color for the dress and hair… I really enjoyed creating details for each Matryoshka. As a little girl, I was trying to figure out which one I prefer.
That's why I added colorings pages. I am sure any child will enjoy to create her own matryoskka. And it's a nice activity for children on a birthday party.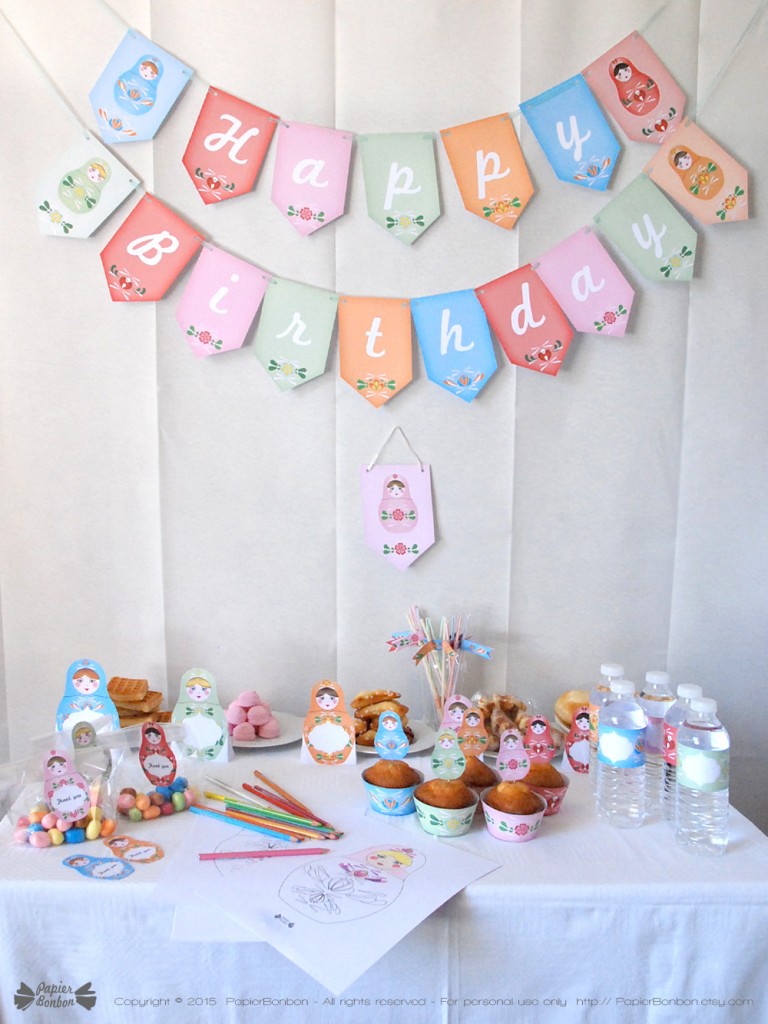 ♥ The matryoshka themed party includes :
A banner – wording "Happy Birthday" plus 5 matryoshka pennants,
Cupcake wrappers – 5 designs inspired from the Matryoshka,
Matryoshka dolls cupcakes toppers; size 1.75″ x 2.75″ ≈ 4,5cm x 7 cm,
Bottle wrappers; height 2″ (≈5cm) – 5 designs inspired from the Matryoshka,
Straw flags – 5 designs inspired from the Matryoshka,
Matryoshka dolls as Editable food labels (you type your own text); 5 designs size from 4″ to 6″,
Matryoshka "Thank You" tags – 5 designs,
5 different coloring pages of the Matryoshkas.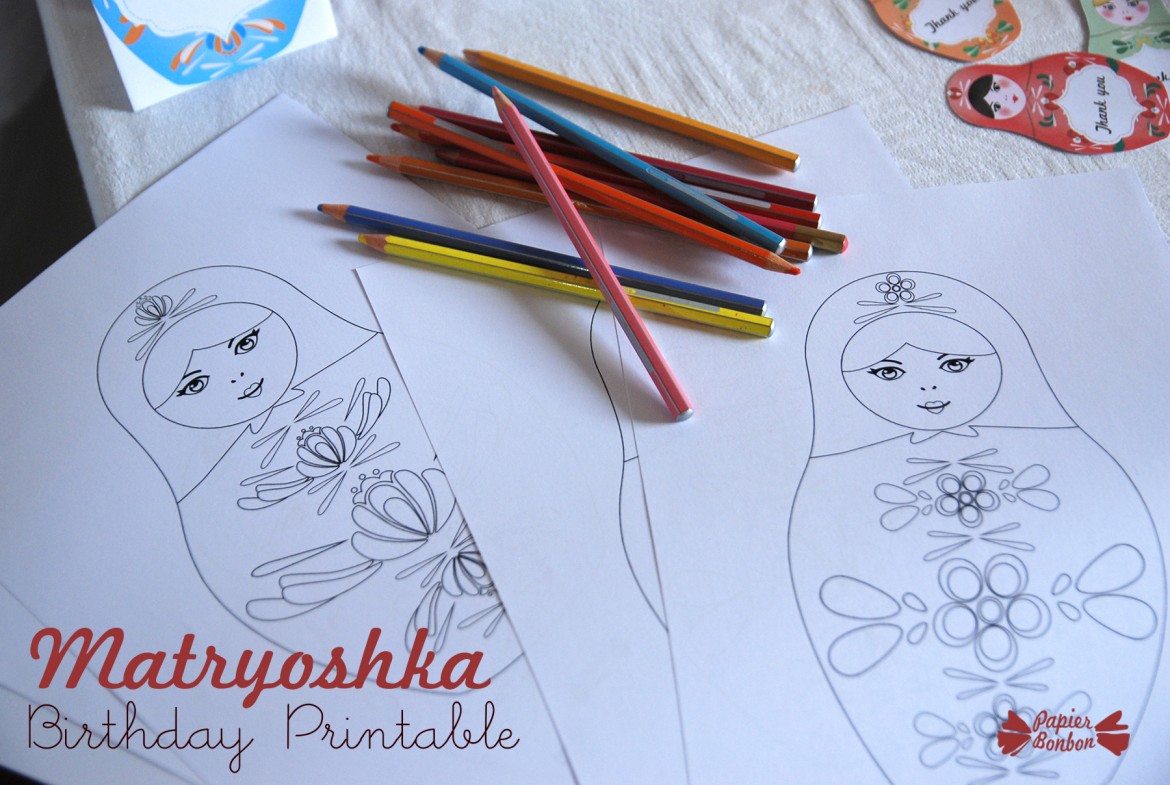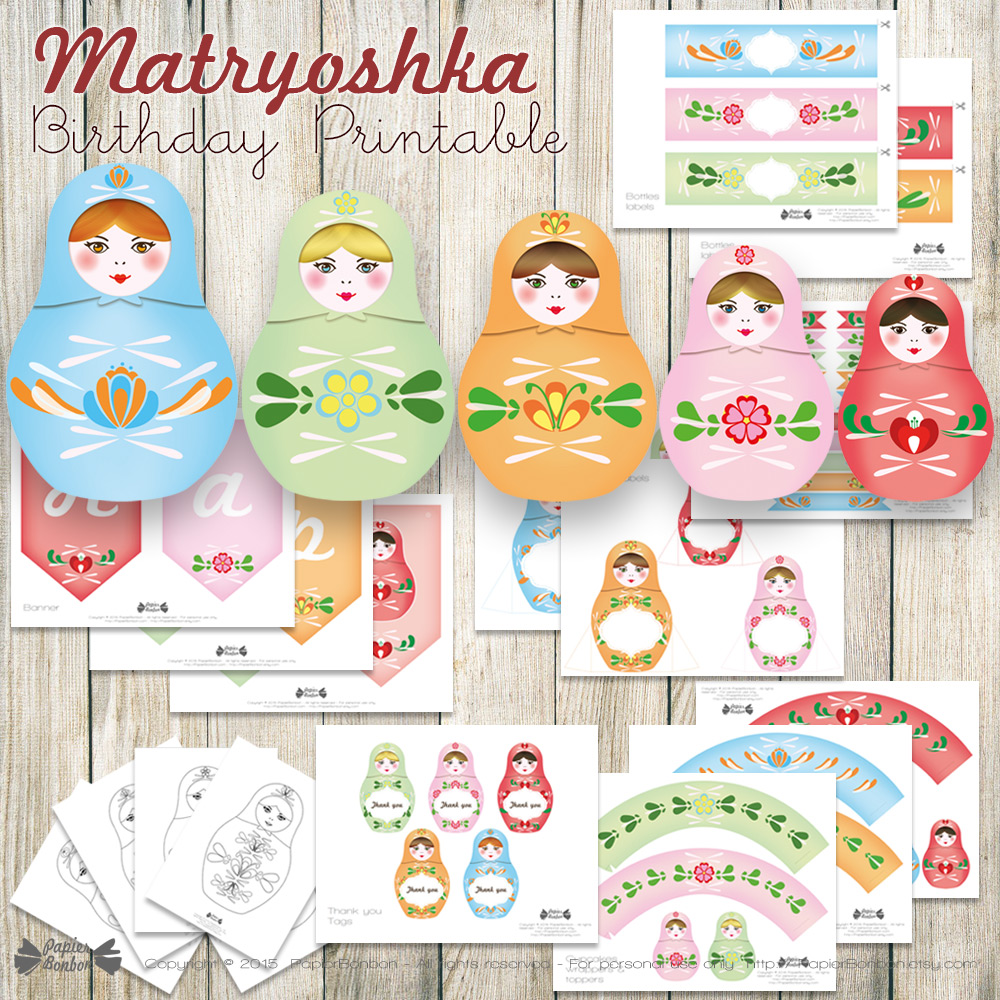 If you want to find out about this Matryoshka themed birthday party supplies follow the links below
| | | |
| --- | --- | --- |
| Matryoshka birthday party | Matryoshka favor boxes | Matryoshka Personalized invitation |
And two printables to purchase separately from the Matryoshka party
| | | |
| --- | --- | --- |
| Matryoshka cupcakes wrappers & toppers | Matryoshka coloring book | |