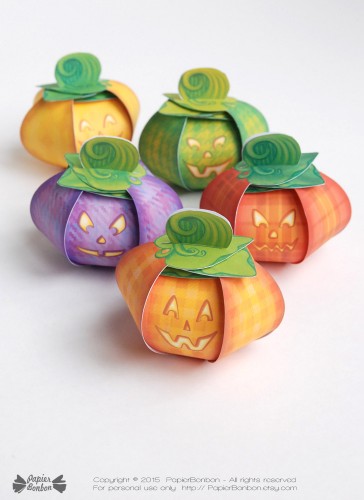 Next week it will be fall. No doubt I love this season because of one of my favorite Holidays:
Halloween
Not all Halloween decor has to be spooky or scary. If your in the mood for something colorful and funny then you will love the pumpkin favor boxes I created!
I got inspiration from tartan and old fabric patterns. I wanted to create a pattern one could find on an old travel bag from the great grand mother.
It was so fun using this colorful pattern that I designed tags with it.
These pumpkin boxes are great party favors for sure but you can also turn them into tiny tealights (especially if you don't want to get into all the mess of pumpkin carving). They are the right size for led tealights.
My kids love to wander around in the dark with them.
As usual, I like to create easy favor boxes to build, so no gluing is necessary. Find out more on the pumpkin favor boxes on the page from the shop.
Vidéo Halloween pumpkin favor boxes – Printable