Don't miss others ideas: 24 news filling ideas for Advent Calendar
It's very nice to build an Advent calendar. We create something nice for the ones we love.
And it' always fun to have a Christmas Countdown. There is still plenty of time if you want to use the Advent Calendar "Village in the Forest", I created ; or the Advent Calendar the Penguins Village, The Matryoshka Advent Calendar.
They are little Christmas villages really easy to craft.
However, once the container is made, we must find ideas to fill the advent calendar. It is not easy to find 24 ideas when you do not want to distribute candies every day and you don't want to spoil too much your children either. Therefore, here is a short list of ideas and several free printables, I created for my advent calendar. You will be able to glean ideas to fill yours with many gifts, both pleasant and symbolic.
Things to eat and candies:
It's nice to have some! It 's such a pleasure to discover little treats. I guarantee that even adults like that.
1 some corn to bake popcorn
2 a decorated tangerine (Just draw some stars, flakes with a permanent marker)
It's a huge amount of calories but what it is so good!
You need 1 marshmallow piece + 1 large shortbread + 2 squares of chocolate.
I offer you a tag with the recipe for you to print at home:
The Gift voucher card
Okay, it is easy to make. This does not diminish the pleasure they can provide. I offer small cards to download and to print at home. You can then imagine different things your children or your love ones might enjoy doing together
Some ideas for those Let's do cards
4 Choose the next meal
5 Having a small cartoon (one more)
6 Have one more bedtime story
7 Choosing on a family outing before Christmas
8 Playing a board game
9 Get help to build a cabin in the room
Paper games:
10 Finger puppets
11 Homemade Puzzles. Download any coloring on the Internet and cut in puzzle pieces.
12 Dots Drawings
13 Bill notes to play. Come on, it's Christmas before Christmas, I offer you Bill notes too

14 Paper whistle: Here's another printable three decorated paper whistles :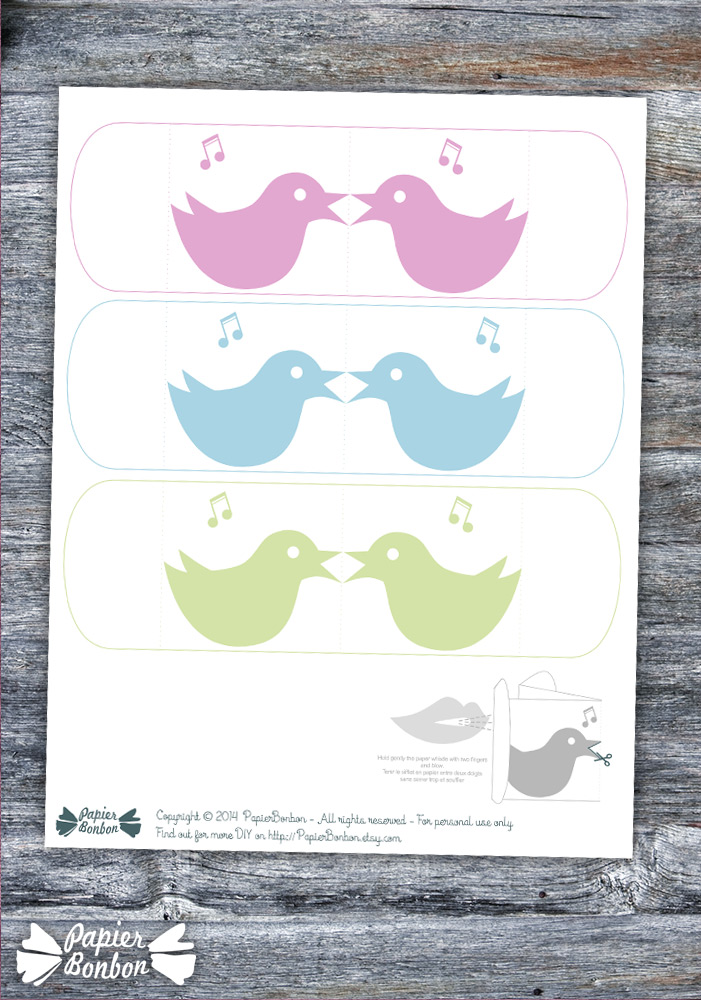 Small objects:
15 A stamp and an envelope to write to Santa
16 Balloons
17 Serpentine
18 Some charms and pearls, a nice string to make a necklace
19 Pompons and buttons or eyes to make small creatures
20 Craft supplies: nices buttons, false diamonds…
21 small pompoms and eyes to create funny creatures
22 Little treasures you can invent: pine cones, acorns painted with gold or silver
23 Objects to create: Colored Pencils or glitter pens
24 A piece of plasticine
25 A small plant / or some seeds to germinate, earth and a small pot.
26 A ball of fat and seeds to put outside for the birds.
27 A real coin to spend
I hope my ideas and the printables will inspire you. I would be glad to hear for any other idea you may share in the comments. See you soon.
And if you want more ideas go to the 2015 post: 24 news filling ideas for Advent calendars.
And to have a quick look at the Shop Advent Calendar
EnregistrerEnregistrer