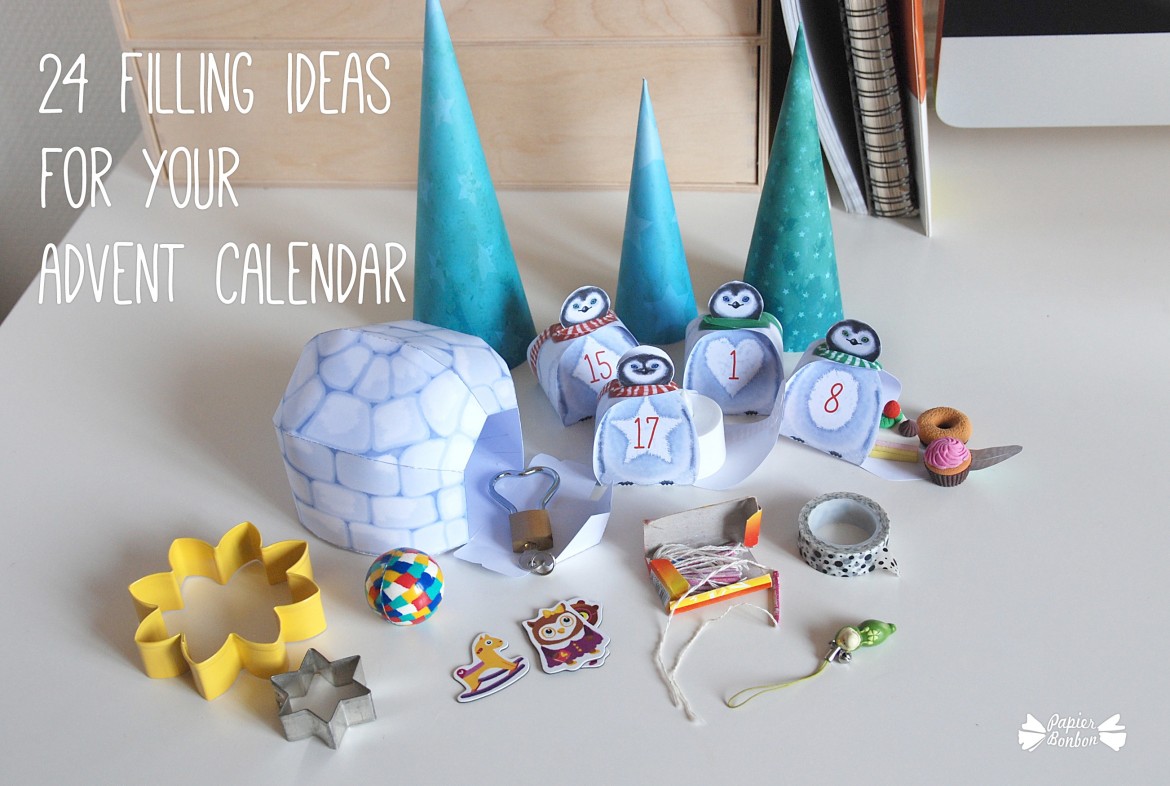 Okay, so we could say we are still at the beginning of the month of November: you are going to argue that it is a little too soon to talk about Christmas. Hey but wait, I am not going to talk about Christmas but about the Advent period which starts on the 1rst of December.
In other words, we are already late. Noooo, I am just kidding ! And I have precisely plenty of new ideas to share with you.
In a recent post, I talked about my new advent calendar, the penguins Christmas village. I built it with different cute penguin boxes and igloo boxes. Today, I will be sharing the result of the brainstorming I had to fill these boxes with magic and surprises.
I have gathered links on the web, classical ideas and brillant new ones to eat or drink, to play, to indulge ourselves … in other words to have fun waiting for Christmas.
So here we go with today's 12 first ideas: food and small gifts.
---
 Food & drinks :
1. Decorated cookies.

It's a classical gift but what a pleasure to discover beautiful cookies ! If you don't have time to cook let's take a look at this beautiful shop >> SweetArtSweets
But if you have time to organise a cooking party, it is precisely a good idea. What a lovely thing to bake cookies together.
Okay, you probably know well about it (I discovered it only a few years ago since it's absolutely not a french cooking recipe). I will be sharing the basic recipe as a reminder and invite you to go and try all the beautiful variations that can be done around this treat. I think I will share another post on the subject for I am a fan.
Ingré­dients :

6 cups Rice Krispies
4 cups Marsh­mall­lows
3 table spoons of butter

In a large saucepan melt butter over low heat. Add marshmallows and stir until completely melted. Remove from heat.  Add the rice krispies. Stir until well coated. Use baking paper to press the mixture in the final buttered pan. Allow to firm up then cut in squares. Yummy !
And just like last year (with the s'more recipe), I thought it might be a pretty good idea to place the ingredients in an advent box for an express rice krispie treat with a tag.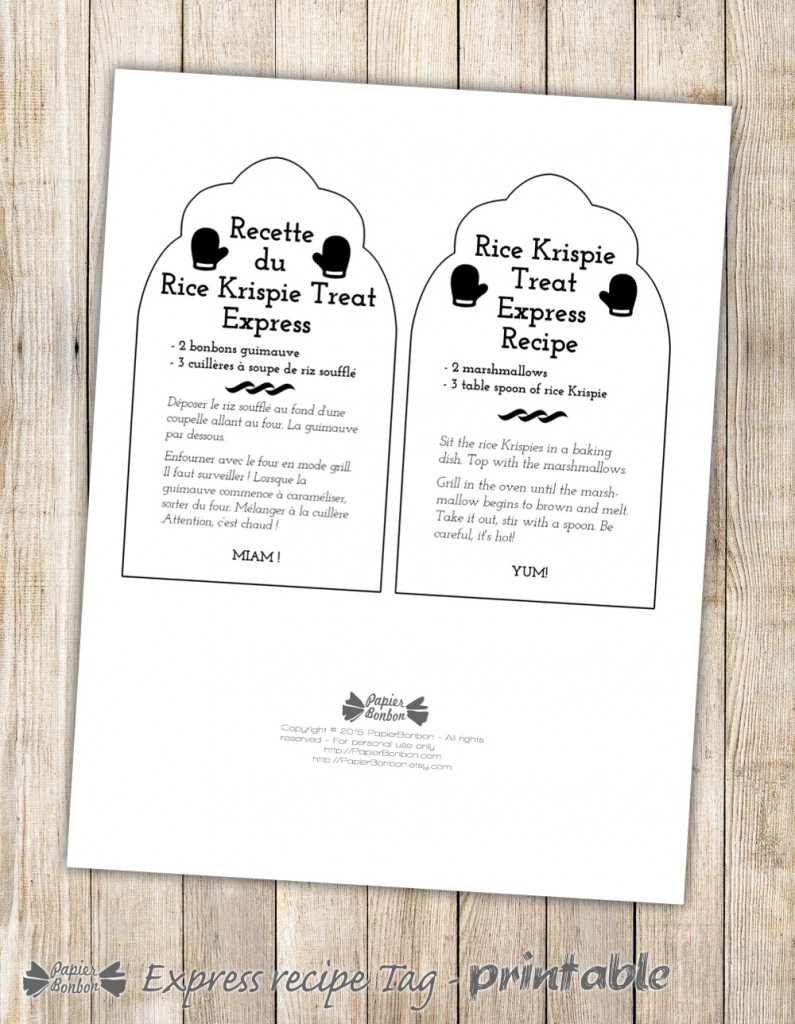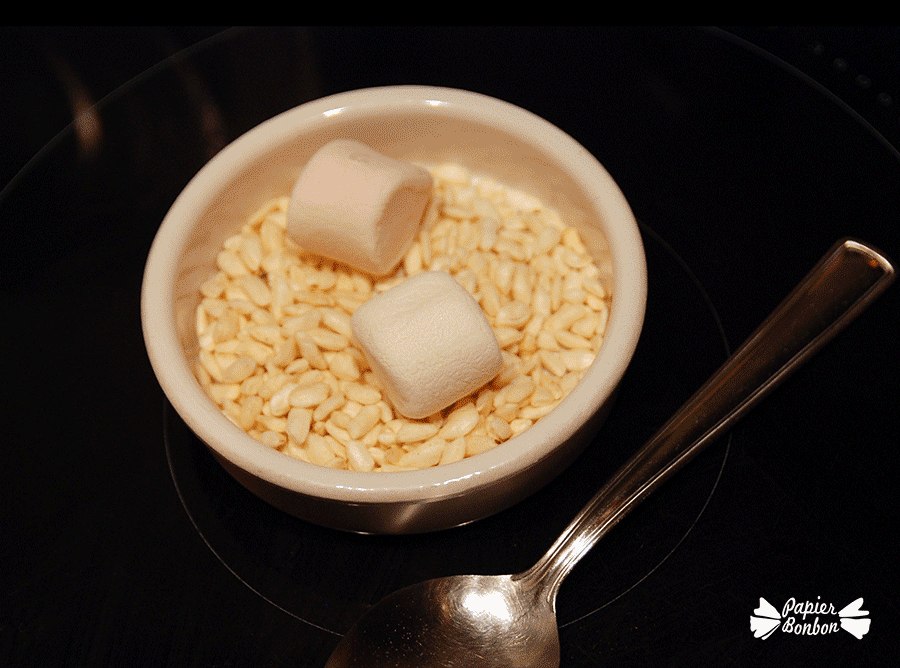 As one image is worth a 1000 words, take a look at the pinterest board I made on decorated Christmas Rice Krispies treats.
Abonnez-vous au tableau Christmas Rice Krispie Treat de Papier Bonbon sur Pinterest.
Another brillant idea found on the web and on any good grocery. I will love to make a whole post on this recipe for it offers many possibilities.
Ingrédients:

1/2 cup heavy cream
14-oz can sweetened condensed milk
22 oz (about 4 cups) chopped chocolate or chips
Lollipop sticks or spoons

Place the chopped chocolates chips in a large heat-safe bowl. Pour the heavy cream and condensed milk into a saucepan and whisk over medium heat. Bring the liquid to a simmer. Then pour the hot cream over the chopped chocolate and whisk the cream and chocolate together, until the chocolate is melted and you have a shiny, smooth mixture.

Pour directly in spoons or in silicon mould (then skewer each with a stick once it is firm). Let it firm up for 4 hours at least in the  refrigerator.

Store them in an airtight container for up to a week at room temperature, two weeks in the refrigerator, or up to a month in the freezer.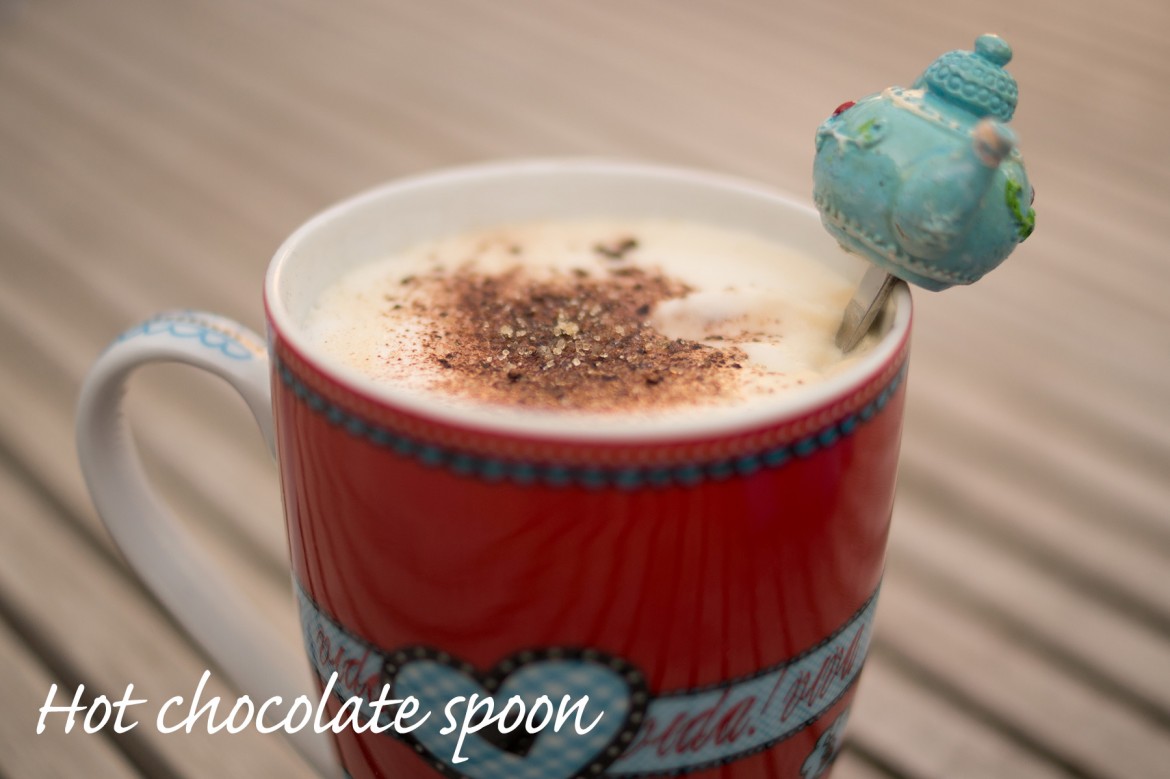 I think it's a great idea to repeat on several days. For children love to do things like adults.
Of course, for kids, we will choose herbal tea or red roïboos that don't contain theine. You can use classical tea bags from chain stores. But you can also find beautiful and trendy tea bags as the ones from Tea Heritage for instance.
You can also choose to do it yourself with coffee filters, a stapler and a nice string. As for me, I share nice tea bags labels I created with a design inspired by the Advent calendar.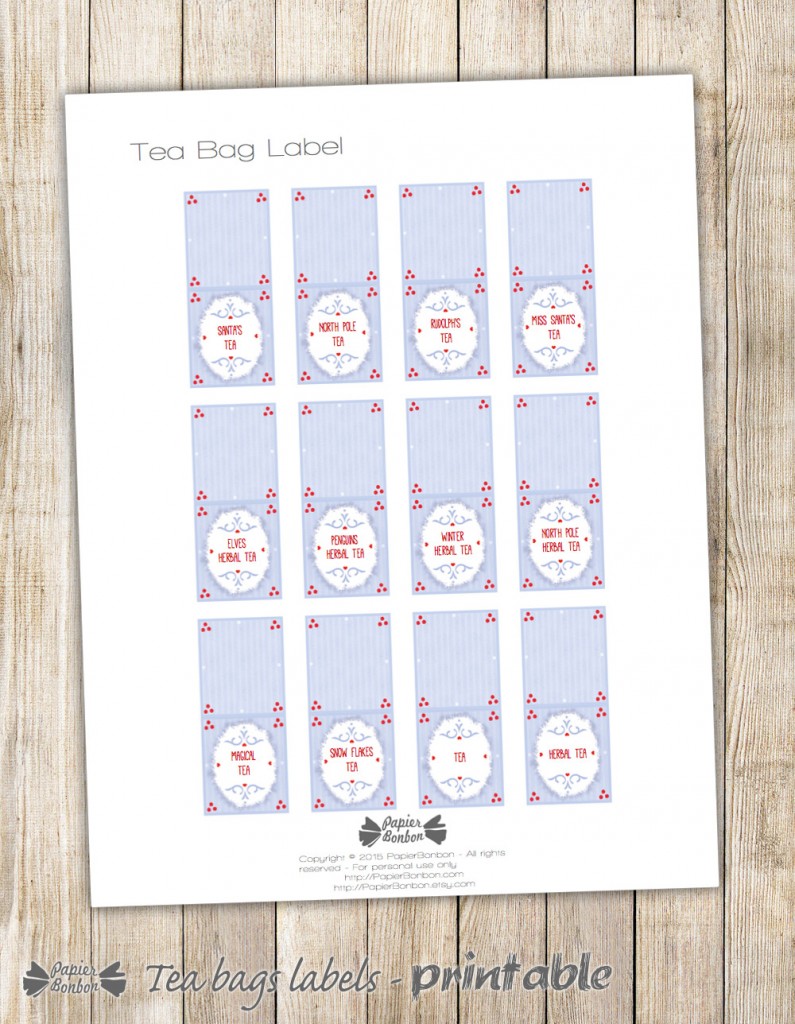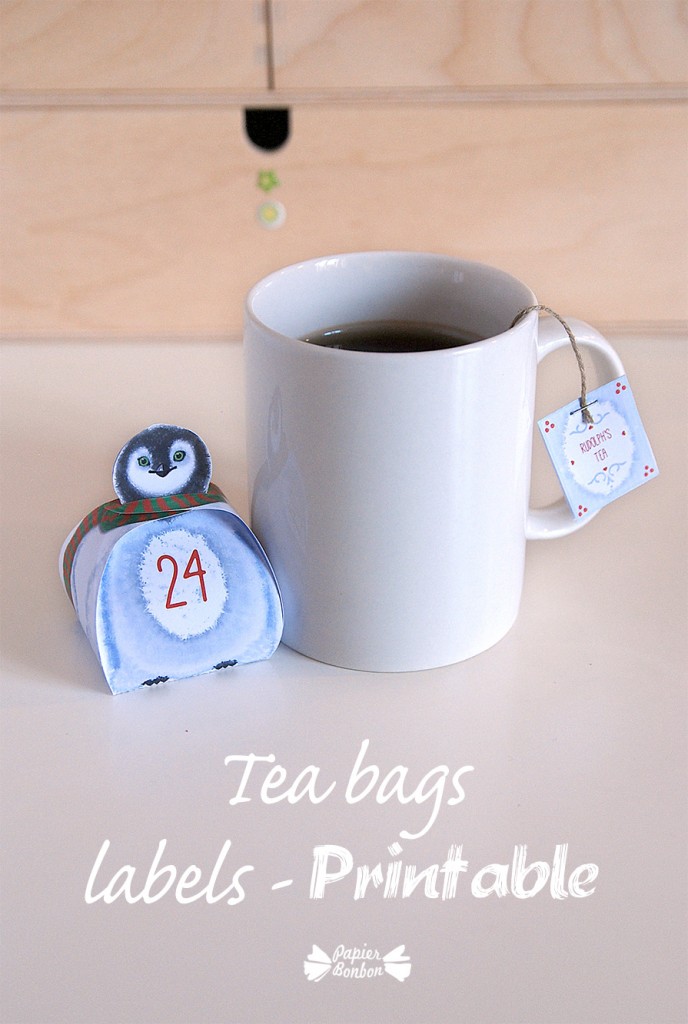 ---
Small objects :
6. Pull String firecrackers or Snappers firecrackers.
The kids love them and they are absolutely harmless.
7. A funny pair of socks.

8. Small rubber.

9. A bouncing ball.

10. A small keychain.

11. A magnet.

12. A lock.
My boys are all about locks lately that's why I thought it might be a pretty good idea.
So here are the first filling ideas for advent calendar. I hope you will get plenty of inspiration from them. See you next monday for the next 12 ideas (24 ideas to fill your Advent Calendar part 2). And if you don't have enough of them for today, let's take a look at last year post: 27 filling ideas for Advent calendar
And don't forget to take a look at the DIY advent calendar from the shop: