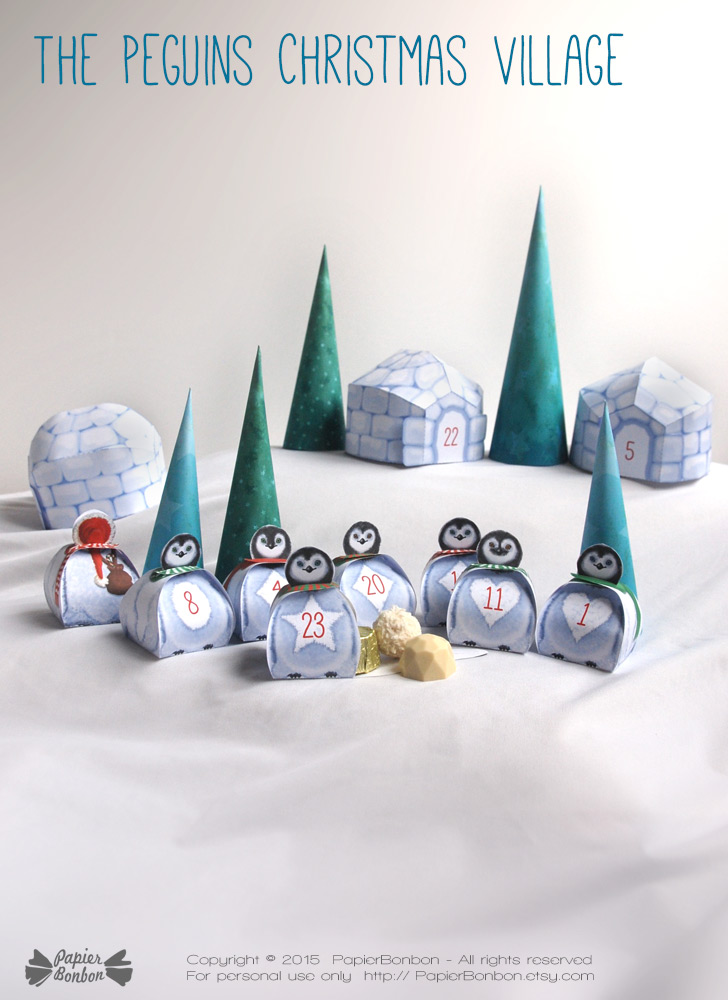 I was talking last year about my passion for Advent calendars. Well, one year later, I am still passionate about this tradition. I intend to start as soon as the beginning of November to fill the one I created for the shop Papier Bonbon.
I am also preparing new ideas to fill an Advent Calendar that I will obviously be sharing here as I did last year (27 ideas to fill an Advent Calendar).
But for now, let's take a trip to the North Pole with the Penguins Xmas Village. Once more, I told myself a little story: What if Santa Claus was not getting help from elves to prepare Christmas but from his next door neighbors, the penguins ?
I wanted to build this Advent Calendar as a real Christmas decor : there are 19 penguins gift boxes, 5 larger igloo boxes and christmas trees to complete the picture.
When you can create your own character in video games, I always spend a huge amount of time deciding how he/she will look.
It's quite the same here. I fancy creating many different penguins. The color of the eyes, faces, fur patterns, scarves and other accessories are changing on each penguin, so each one is unique (just like the previous Advent Calendar where houses are more decorated as the days pass).
I plan to have games just like "Guess who ?".
My children are thrilled and I am quite pleased with the nice smiling faces that are watching me as they wait for December.
If you want to find out more about this Advent Calendar check this link : Advent Calendar – The Penguins Christmas Village
Hope you like it… See you soon for news from the penguins ! ❄️❄️❄️