Today I will show you the first of the Advent Calendars I created for 2018 with the silly theme: The Ugly Xmas Sweaters ! And I prepared a long list of funny challenges to keep the good mood till Xmas.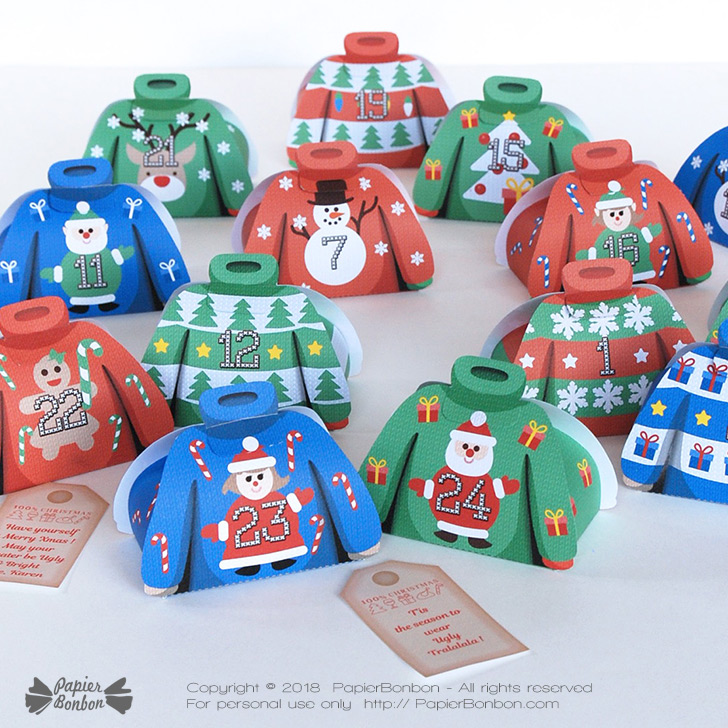 The Ugly Xmas Sweater Advent Calendar
I think Ugly sweaters are a good way to stop fussing or worrying about the perfect Xmas. No urge to be absolutely happy or to create the perfects moments, this advent calendar was made for those who take life on the good side. That's why I own a ugly sweater myself. A bright red one as it should be.
I drew all the classical designs from Christmas such as the reindeer, the snowman, the elves, presents and xmas tree… I used bright simple colors with a nice jersey stitches pattern. And here it is. Quite funny.
Find out more about the Ugly Xmas Sweater Advent Calendar ont the shop
---

Challenges ideas to have fun in December
I like to give add-ons when I show you my work for the shop. So I thought I would design cards with funny challenges to fill your advent calendars and to make Xmas countdown a bit silly and entertaining. You'll see that it's a precisely about clothes and getting dressed. But always with a good spirit: the idea is to achieve the challenge during the day without getting too serious.
These cards have the design of the Ugly Sweater Advent Calendar and will fit in perfectly. Nonetheless you can use them in any Advent Calendar so that they will help you filling them not only with gifts.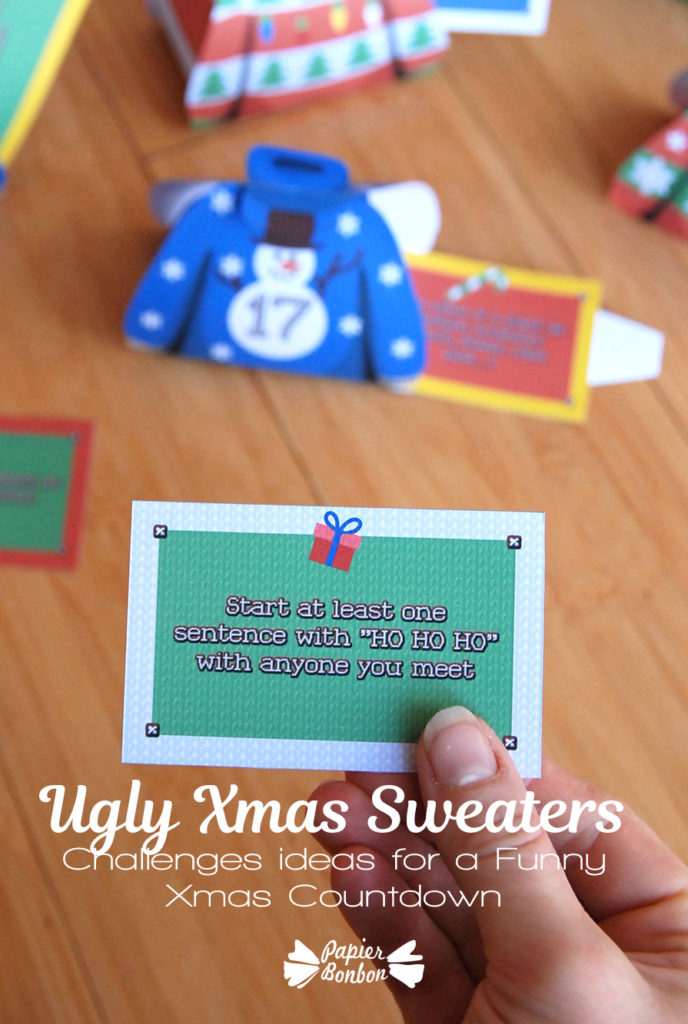 Below is the list of the Advent Calendar funny challenges I invented for the cards:
Wear an Ugly Xmas Sweater
Wear the clothes of another family member
Wear a hat
Wear an element of disguise
Wear a summer outfit
Wear clothes with all the same single color
Take an umbrella even if it doesn't rain
Mismatch on purpose your clothes
Take along a weird accessory (a spyglass, a cane…)
Give a small gift to a stranger
Try to put a Xmas song in somebody's head
Wear gloves, scarf and cap even if it's not that cold
Get dressed as if you were going on a party
Have an crazy hairdo
Wear sunglasses even if it's not that sunny
Use makeup on your nose so that it's a bit red as Rudolph's
Give one of these cards to a stranger and convince him/her to accept the challenge
Wear a Xmas ornament as an fashion accessory
On a week-end, keep your pyjamas on all day
Use a piece of a plant as a fashion accessory (branch, flower, cone pine…)
Wear highly mismatched socks
Give candies to strangers
Wear a garment upside down
Start at least one sentence with "HO HO HO" with anyone you meet.
Update November 2022: I've added a page with empty cards so that you can create you own funny challenge.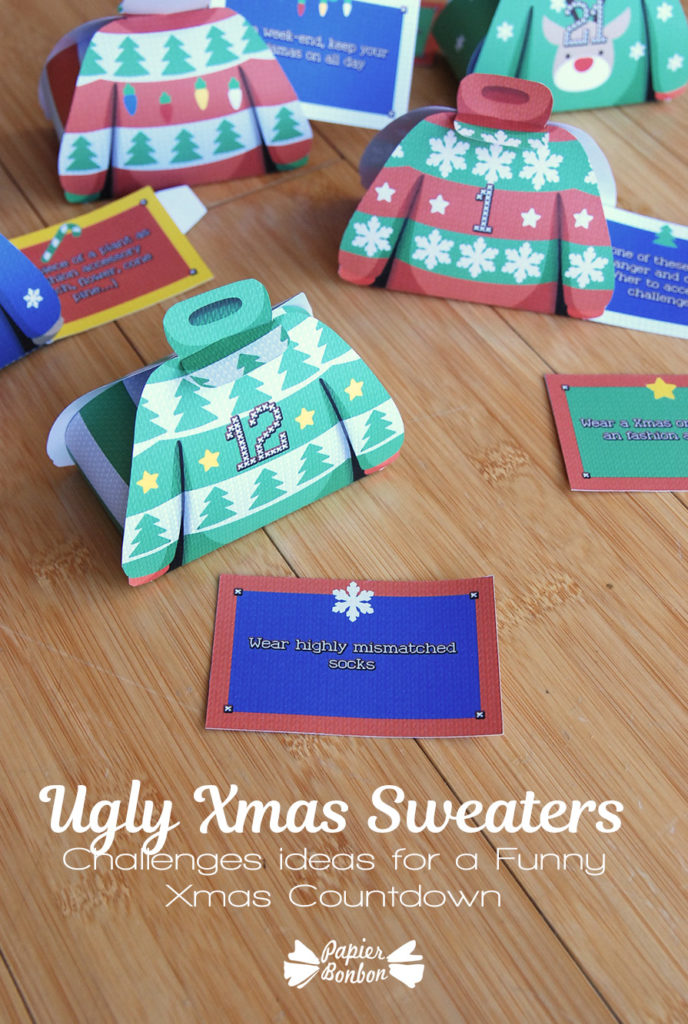 The printable Challenges cards
Download the Ugly Xmas sweater challenges Cards
I hope this crazy idea will be fun and will bring many laughters and smiles along December. To end this post, I'll leave you with previous ideas, activities and printables for your Advent Calendars.
See you soon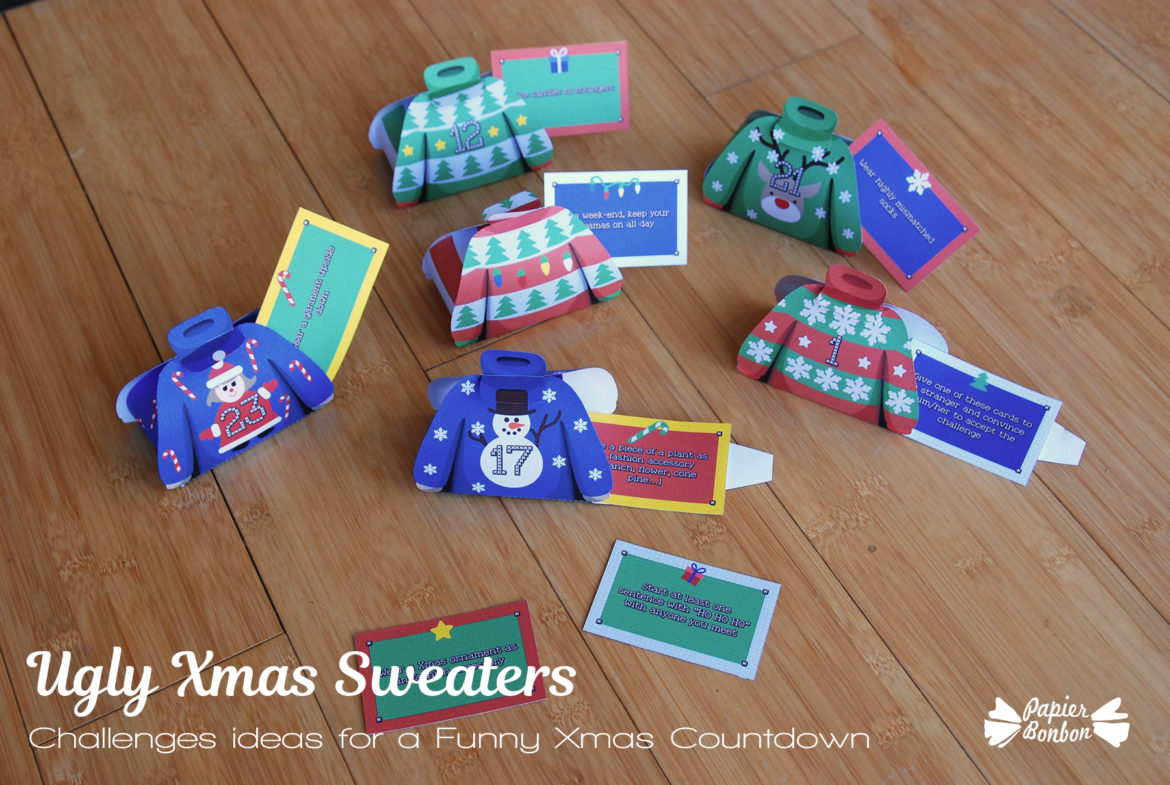 A glimpse at the other Advent Calendars from the shop