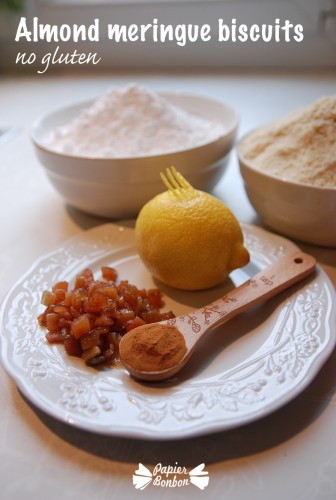 I wanted to share a recipe I adore. It allows me to spoil some friends allergics to gluten and to dairies products too. Since I am not allergic myself, I am usually at lost to find proper recipes.
With this one, I can avoid the two types of ingredients. It is based on a meringue with almonds. It's absolutely delicious. It comes from one of my favorite books: Breakfast Lunch Tea by Rose Bakery
For approximatively 30 large almond meringue biscuits
– 4 egg whites
– 3 cups powdered sugar, plus extra for rolling out dough
– Juice of 1/2 lemon
– 3 cups powdered almonds
– 1/3 cup candied orange peel
– 1 teaspoon ground cinnamon
– Zest of 1 lemon, grated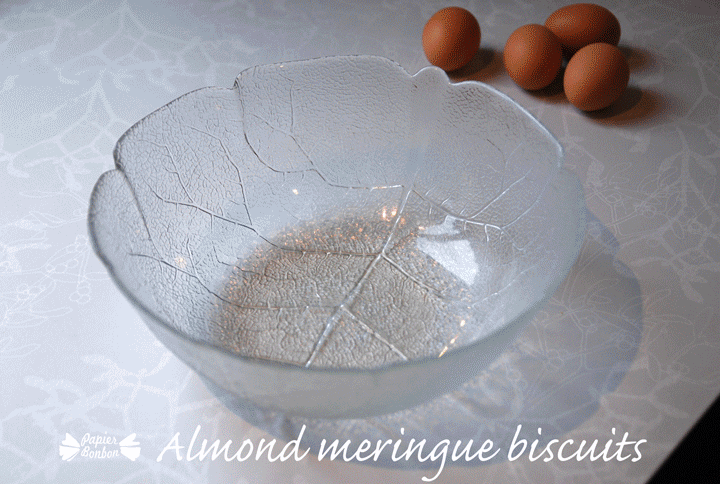 Recipe instructions:
To make the meringue, beat the egg whites untill they are really stiff. Gradually add the powdered sugar.  When the sugar is incorporated, add the lemon juice.
Set aside one cup of meringue in a separate bowl for the topping.
Add the lemon zest, almond, candied peel and cinnamon to the meringue in the mixing bowl.  Stir gently until incorporated.  Scoop up the mixture into a ball and wrap it in plastic wrap and refrigerate for one hour.
Line the baking sheet with parchment paper.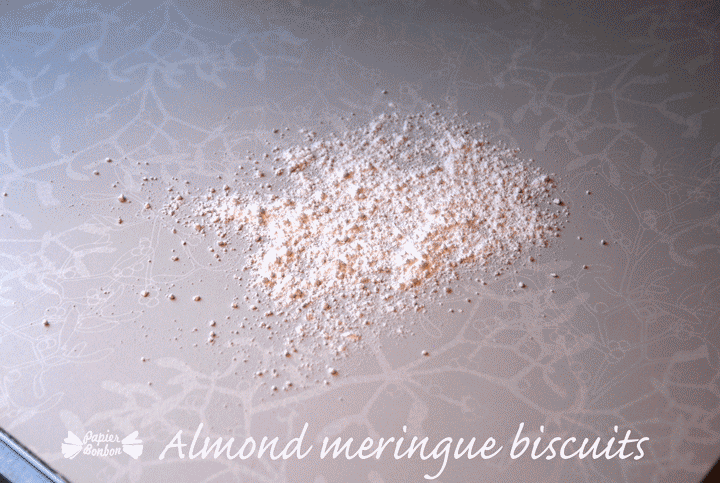 Generously sprinkle your work surface with powdered sugar so the dough doesn't stick to it.  Roll the chilled dough to 1/4″-3/16″ thick, dusting your rolling pin as you go so it doesn't stick.  Use cookie cutters to cut out the dough, then transfer the cut-out pieces to your baking sheet.
Brush the tops of the cookies with the reserved meringue.  Leave them to dry for about an hour.
Preheat the oven to 350°.  Bake the cookies for about 10 minutes: you should check often so the tops don't color and the bases are golden.
Leave the biscuits to cool and enjoy !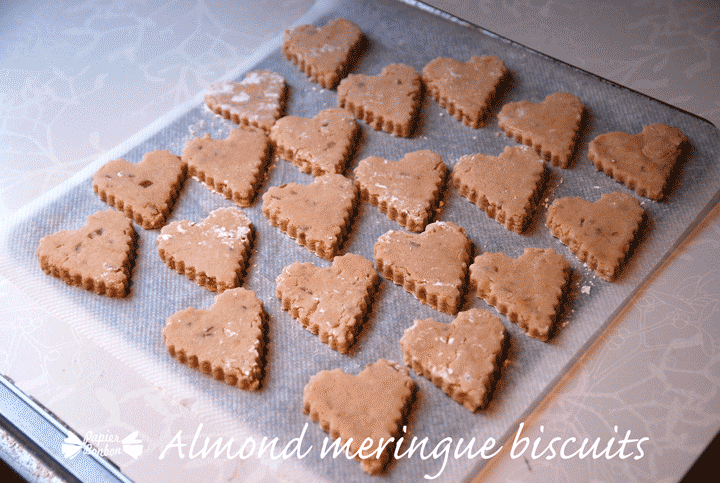 As Valentine's day is near, I decided to use my heart shaped cookie cutters. I filled my diamond heart gift boxes to offer sweet gifts. The biscuits inspired me a paper wrap & tags printable for Valentine's day I will share with you monday.
Have a nice week-end !