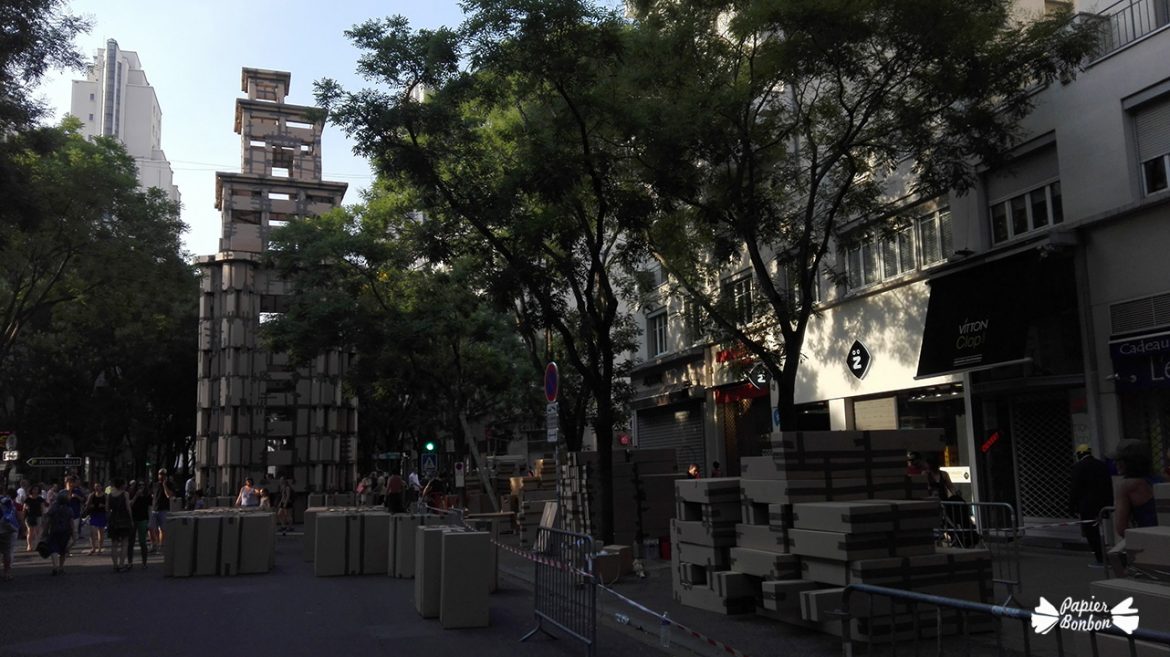 The Summer brings the street festival Les Invites de Villeurbanne in my city.
It's so great to have a festival in your city, to discover new artists, to meet people sharing the same enthusiasm.
And there is something quite extraordinary in this edition. Quite monumental ! That's why I really wanted to share this with you like an amateur reporter, with my cellphone.
I wasn't quite aware of this year's program. But the rumor was talking about cardboard and people helping to build something. What a surprise on monday, as I went to the center of the city for an appointment, and to discover 10 meters high buildings made of cardboard.
Les grattes-ciel de Villeurbanne (the center of the city) soon became a beacon of interest. But what a surprise again when suddenly we became part of the process with the kids : lifting, building, fixing things with tape.
Olivier Grossetête, artist is not new to the creation of such an event as I reckon with an image web search on his name.
"More than 8000m2 of cardboard to assemble with the help of hundreds of inhabitants of Villeurbanne in the Gratte-Ciel, up to 25 m high."
as the Festival website states. Anyway, I was thrilled to lift this huge beffroi, to tape cardboards columns, to applause with helpmates. I hope you will share my enthusiasm and that your path will meet such an event. It opens the mind and fill your heart with joy.
So let's go outside and see things !
As for me, I will go back to my paper projects that are nice but not as quite monumental, I must admit .;)