Here we are! The last month of the year is drawing close. I can't believe we will soon enter the holiday season. Here you will be able to download the last printable month calendar. It was inspired once more, by one of my last Advent Calendar : The Russian nesting dolls Advent Calendar.
Matryoshka Advent Calendar for December
When I work for papier Bonbon, I often remember the child that I was to recall what filled me wonder then. I already talked about it, My uncle offered me Russian nesting dolls when I was a little girl. These nesting or classical home decorations always fascinated me. Their garments ans style. I imagined sumptuous balls, adventure tales & winters glittering with snow.
That's why I wanted to use this theme to create a new Advent calendar to build a fabulous winter ball where everything would be sumptuously decorated. Here are those 24 gift boxes in the shape of matryoshaks & their dance partners that will help you make small surprise all along December to your loved ones. I added Christmas tree and a coach to complete the scenery of this winter ball.
> Find out more about the Matryoshka Advent Calendar in the shop
December Calendar & Bucket List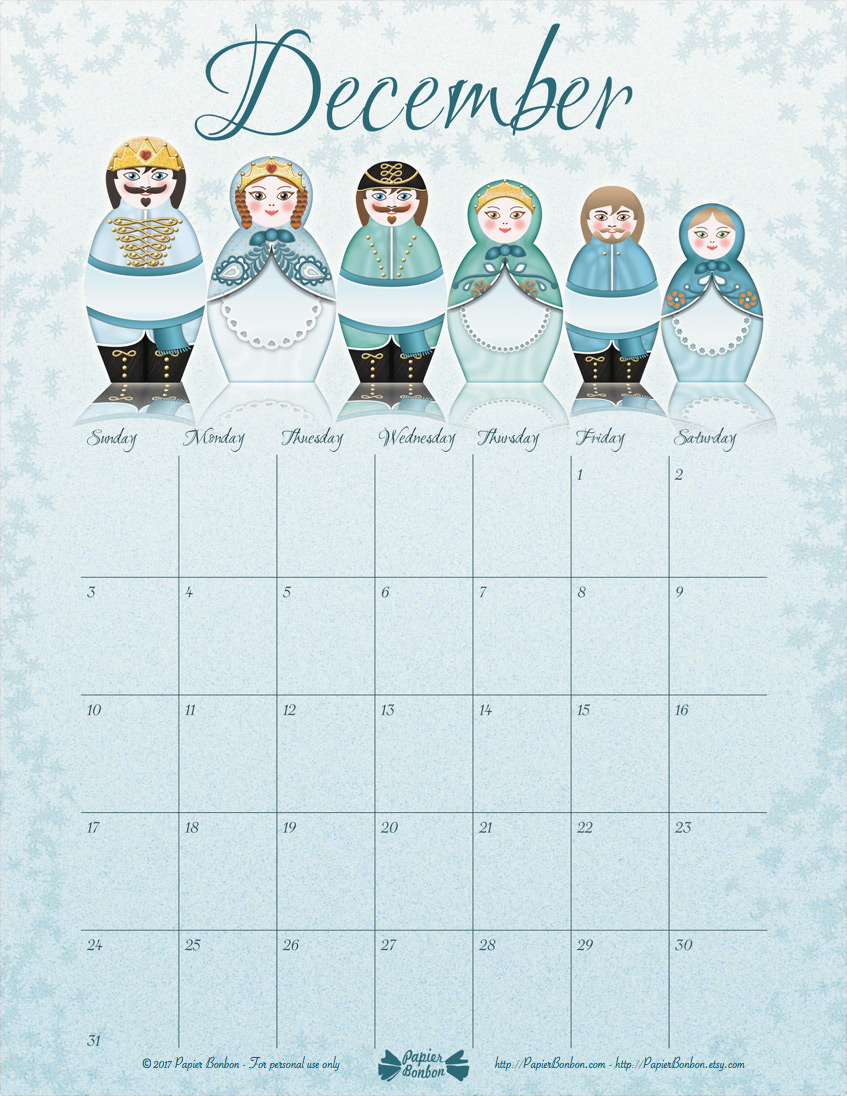 I am hoping to have many holidays activities along the days. I intend to fill this time of year with bliss, peace & meaning.
My to do list for December & Before Christmas
Prepare the Advent Calendar for the Children.
Go to the Library to get plenty of Christmas related books.
Have a paper craft activity with the children.
Go to a Museum.
Renovate an object from the house.
Have a family photo shoot in Christmas Sweater or with Christmas hats.
Indulge oneself to a candle bath.
Read a Christmas related book (almost with "Hogfather" of Terry Pratchett).
Invite Friends to have dinner.
Learn a Christmas song with the guitar to make the children sing along.
Have a brunch.
Decorate the house with the children.
Go for a walk in the city lights at night.
Take time to draw a nice illustration.
Bake cookies with the children.
Offer cookies to teachers, other parents from school…
Play a game with the whole family.
Watch photos or videos from past Christmas.
Make an ornament for the Christmas tree.
Create & send wishcards.
Go ice skating.
Watch a family movie.
Go to a show.
Craft your own Christmas presents.
Please share your own bucket list for December. It's so fun to discover new ideas.
But for now you can download the month Calendar below. I hope you'll enjoy it. I'll come back soon to share new activities & creations for the Holidays.