Today I will explain why and how I created a robots and rocket birthday decoration kit.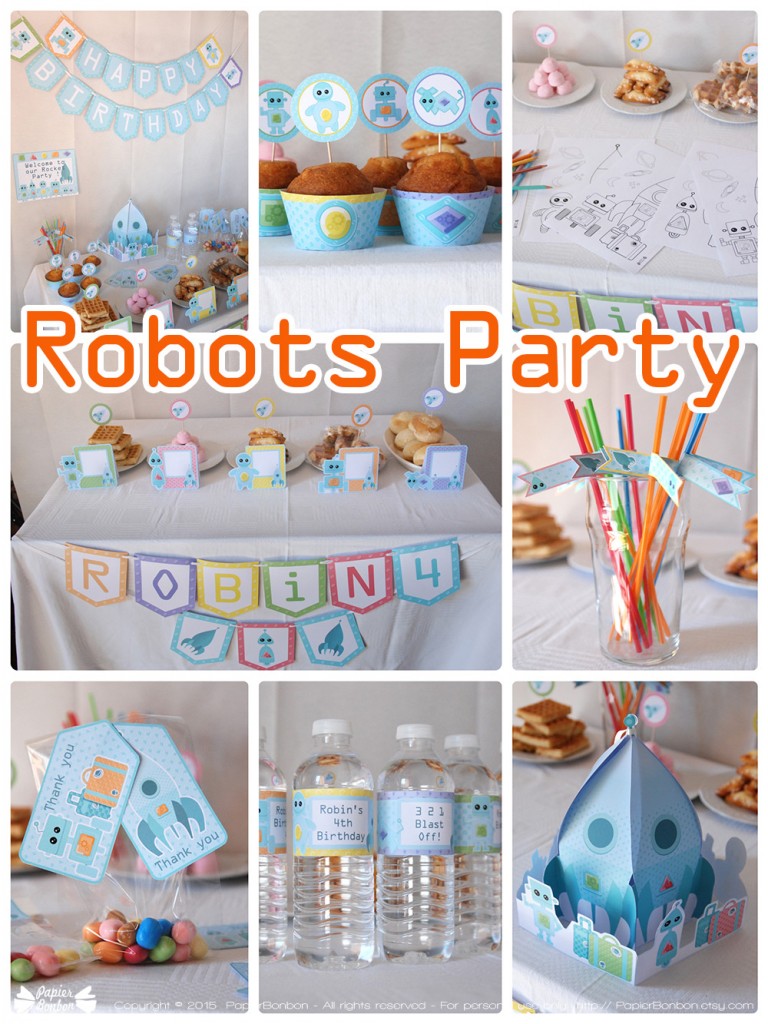 Robots and rocket Birthday : a story for my little boy.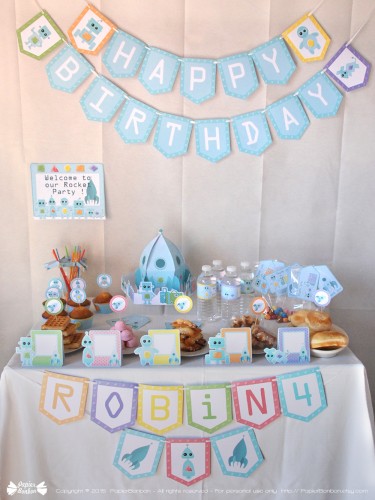 I created a decoration kit on robots and rocket for my son's birthday who just turned 4. Indeed, as many children of his age, he really enjoys the funny looks of robots and their loyal friendship. (that's why I made him a Baymax nightlight, the nice robot from the movie Big hero 6. It's  free paper craft on the blog.) And what to say about rockets that are so great to play with and to imagine trips across the universe .
I really focused on the skills my son is still learning to create shapes and pattern for the party supplies. He is still discovering colors and learn to sort out or to associate simple shapes. That's why I really wanted to use bright colors and basic shapes.
Robots : a shape and a color
I decided too draw the robots only with basic shapes : square, rectangle, oval, triangle and diamond. First, I draw a smiling face that would look like a funny friend who is always happy. Then I built the robots each with a basic shape imagining their personality: the merry, the strong, the egghead…
To make them really different from one another, I imagined they were functioning thanks to a complex machine made of many gears. It would be a kind of diamond heart with a special color. Yes it's funny how I imagine things myself when I create designs.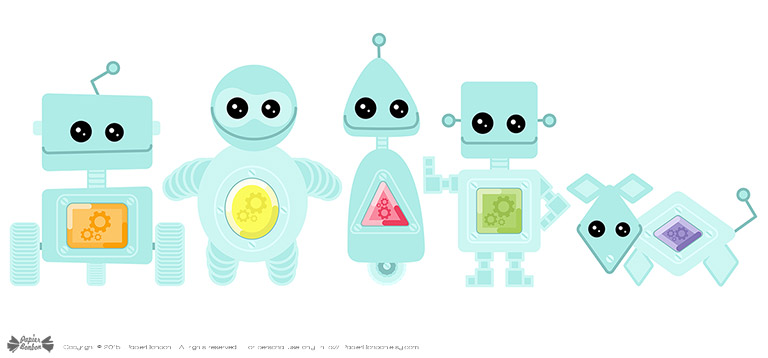 The result is 5 different funny robots with different looks: a green square one, an orange rectangle one, a yellow oval one, a red triangle one and the special little purple dog robot made of diamonds.
In fact, I am to finish a story I am writing right now about these robots and why did they build a rocket… for they have a rocket !
A rocket papertoy !!!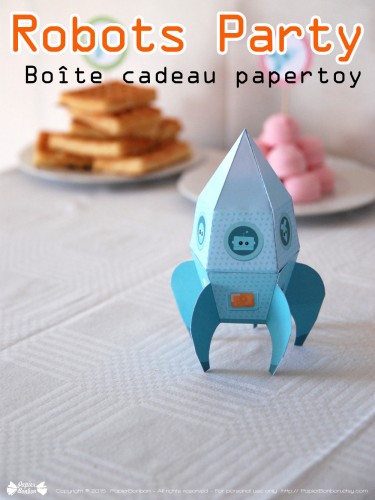 Did I mention earlier my passion for paper toys ? Now it's done. Nothing surprising since I blog about paper, printables and parercraft on papierbonbon.
I had to build this rocket papertoy. I wanted it to have a classical shape just like the ones from old movies.
And it was perfect to make favor boxes for the party guests. But it had to be a toy at the same time with many little details to imagine games and stories.
First, I build the top of the rocket where (candies) robots would seat with a flap of paper as a hatch. Then I designed the bottom where you could set a small ladder. Underneath is the reactor burning red.
When I saw how my kids took my prototypes to pretend the rocket was being loaded or unloaded, or was blasting off, I knew I had it right.
The robots and rocket birthday party supplies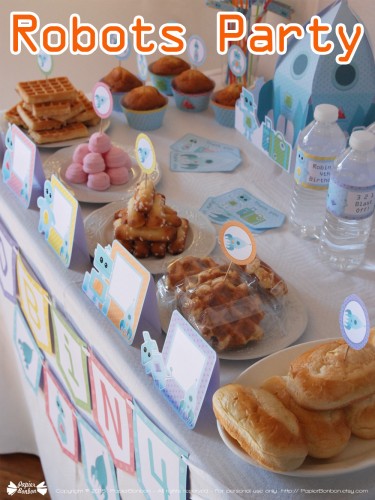 The rest was real fun to do since I had robots, colors, shapes and a rocket.
I used the basic shape to create patterns for the party supplies such as the cupcakes wrappers.
The food labels would be presented by the robots. And I could create many party circles and flags with the rocket and the color "hearts" of the robots.
I wanted to create a huge and impressive party centeriece too. I re-draw the rocket to use it on a larger scale. It would be great to hide a cake or a dish full of candies on the table. The robots and their many suitcases gave the last touch to the decoration.
I am quite happy with the result and quite pleased to know my sons kept the many labels and tags I designed after the party.
>> Robots and rocket birthday party decoration kit on Etsy
Have a nice day.